Introduction to The Tenders
The Tenders is an evolving series of live, remote, and hybrid mixed reality performances engaging with the cover song as a means of exploring the ways in which personal and political histories are written, re-written, and written over. The performances juxtapose a complete 3d reproduction of the bedazzled home of self-taught artist Loy Bowlin — "the original rhinestone cowboy," a persona fashioned after a popular 1975 Glen Campbell (cover) song — with 3d scans of the former site of Fort Dearborn, an early American white settler garrison. Placing the flamboyant tradition of the rhinestone cowboy in relation to the history of indigenous genocide and expulsion, The Tenders project seeks to invert and queer colonial narratives lodged deep within the American imaginary.
Blending augmented poetics and virtual environments with movement, costuming, and original music, The Tenders transforms three networked living spaces into portals of discovery through which viewers experience a layering and collapsing of sites, bodies, architectures and temporalities. The project evokes a dazzling camouflage of embodied spaces with a specific attention to the structures of home and fort, and their corresponding liminal openings of window and embrasure. The performance exhaustively explores the affordances of Zoom, defamiliarizing the now-ubiquitous experience of next-generation video conferencing while gesturing towards a future hybrid platform encapsulating live, networked, and site-specific stagings for simultaneously physical and telepresent audiences.
Complementing The Tenders' recorded performance, documentation, and accompanying writing, the artists have created an online version of one of the augmented reality poems activated during the performance. This AR poem, titled "embrasure," can be experienced as a distribution of 3D volumetric letterforms with embedded texts in the browser or, if accessed via an AR-capable device such as a smartphone or tablet, can be explored in physical space much as the artists do during live performance.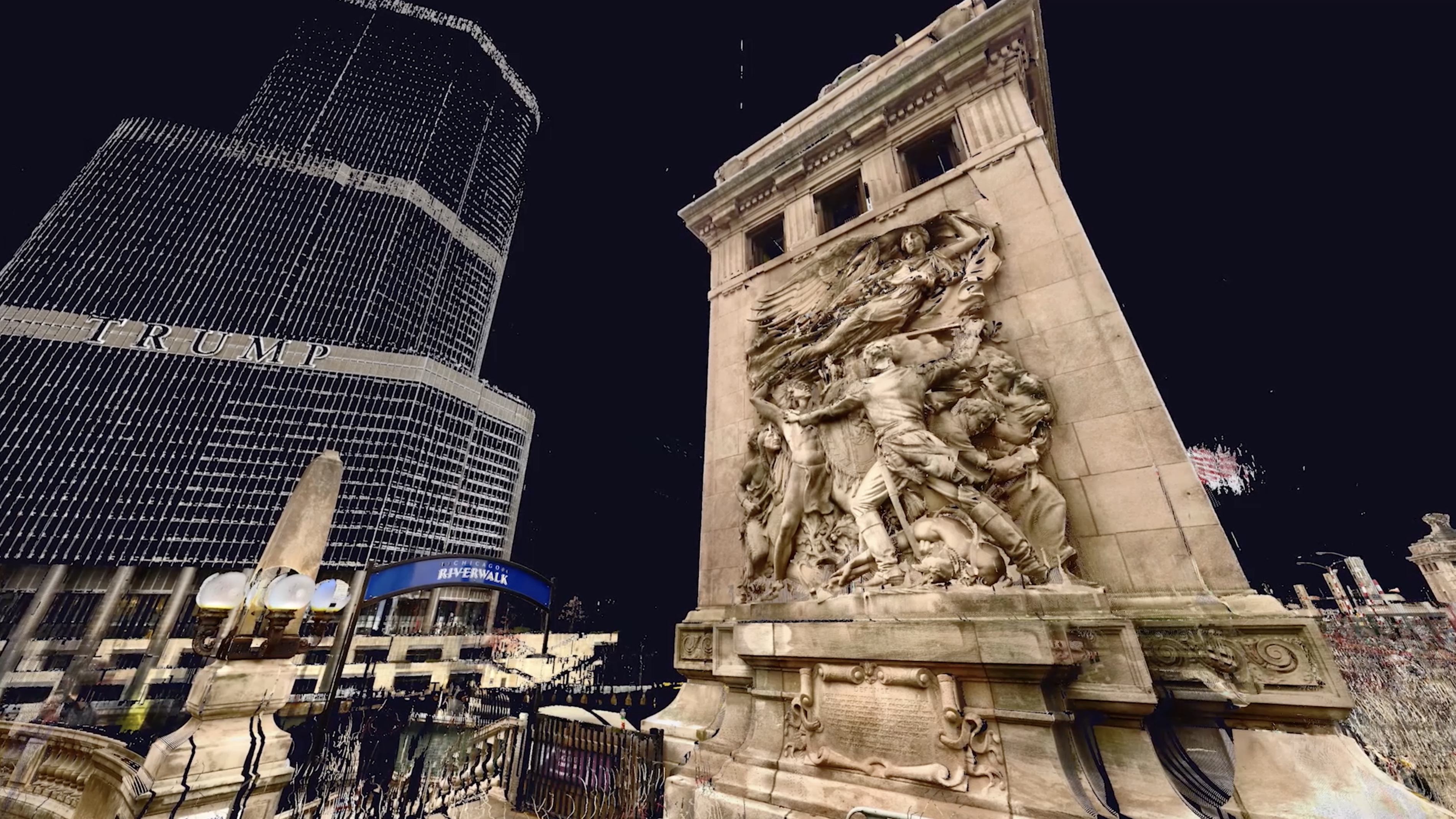 A still from one of the many videos layered throughout The Tenders; in this image we see a 3d scan of one of the four tender houses flanking the DuSable Bridge adorned by a bas-relief sculpture titled "Defense," which illustrates the Battle of Fort Dearborn from the white settler perspective. Trump Tower looms in the background.
[Editor's note: For this issue of TDR, ATOM-r (Anatomical Theatres of Mixed Reality) has provided three modalities of the ongoing project The Tenders : the zoom performance Nocturne in Black and Gold, the AR poem "embrasure," and the written collaboration "Liner Notes fo Undressing Songs"]
---
The Tenders: Nocturne in Black and Gold
Zoom Performance: Nocturne in Black and Gold (The Tenders iteration #5) for Queering the City: A Transatlantic Perspective. Paris, France & Online. 6.10.2021.
---
Liner Notes for Undressing Cover Songs
A nudie suit is a way of covering while becoming uncovered
We set out to make a record with only a jacket so that the lines of each song could become part of its lining. Later there were two jackets, one gold and the other black, one thrusting its hips violently in the wind, the other brushing its tassels on the ruins of the fort while refracting the light that pierces embrasures, creating both disco and nocturne.
We found ourselves heeding the call to unmake a record, to invert and penetrate the hollow shells of buildings not so much as substitute for hedonism but to open portals to the impossibility of an origin.
We stayed in to make a record that is the interiority of drapery furnishing the roominess of ligatures.
We knew that to cover a song was also to paper the bent plumb lines of a loneliness with rhinestone mosaics and a plumage fringe.
Yet we could not have anticipated that the we of bands and shared housing and orgies would become the networked I's of persistent solitary fortification relieved by telepresence and telepathy.
The fort's disappearance became a fort by the same name.
When I wandered the former Cold War military grounds and saw a boy leaning against a tree, giving himself to a group of bare-faced chasers, my desire was deterred by a distance measured in sleeve-lengths that dressed and addressed me. The tree's encodings trace its history of the land from the birth of its roots but not before. In the profile of my torso, its location was auto-detected as Fort Dearborn Addition, Illinois.
Original
getting cards and letters from people I don't even know
Cover
where our missiles become missives from submissives we don't even know
We forgot that our windows are embrasures still
When this 'album' began we were looking at the meticulously rhinestoned home of Loy Bowlin, the original rhinestone cowboy, as a cover of Glen Campbell's 1975 hit. Later, we were working in residence at the tender house of a mechanical bridge situated on the grounds of the former colonial Fort Dearborn. The outer wall has a bas relief called Defense, commemorating the fallen fort, first destroyed in an indigenous uprising, then dismantled when its work was complete, still to haunt the land and nation in parcels of privatized space slyly retaining its name, and situated in proximity to a tower beaming with the gaudy ligatures of a rogue president. The rectilinear parcels of the rogue fort are encircled by a tortuous looping of scratches and deep cuts comprising the story not told by the manufactured grooves of the bridge's cogs, as its peeling bell-sound rises to become one wall of a fortification to enclose the looting that is also a counter narrative to this museum's didactic: The beaver's downfall was its excellent coat (Bridgehouse Museum, n.d.)
— Judd Morrissey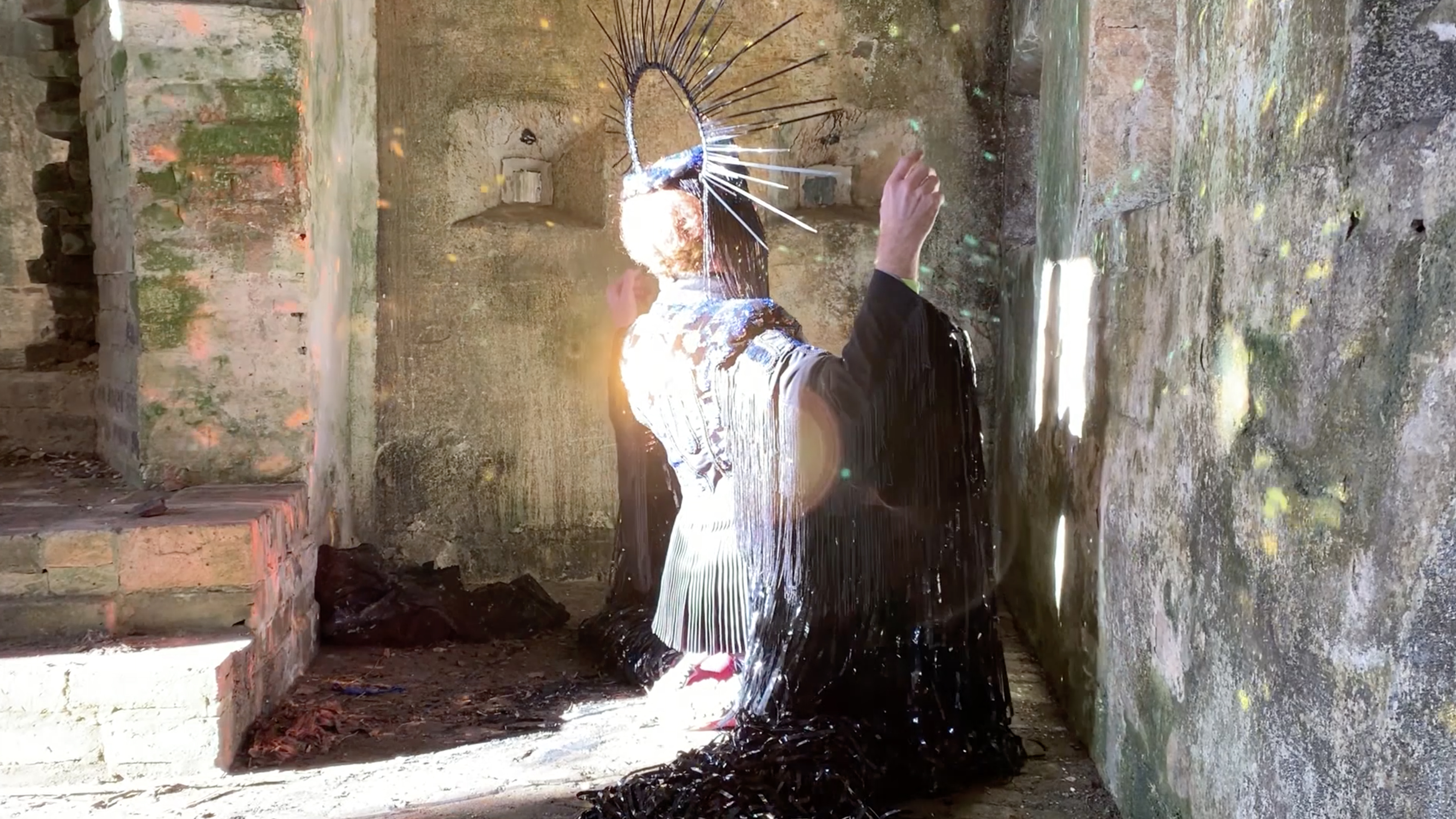 A still from one of the many videos layered throughout The Tenders; in this image we see Mark performing in relation to the embrasures of a 19th century fort outside of New Orleans.
The pandemic Angels that can no longer close their wings --
This storm is what we call progress

Aviva, Judd and I wanted to make an uncanny world where strange augmented reality letters visualised as bricks from an 18th-century fort in Louisiana appear in one another's homes and backyards and then disappear into and onto our bodies as portals and voids that are danced on like glimmering beings. I want the world to dance on itself and embody itself. That the imagined is between worlds of real, surreal and desire. To cry dance through a space of isolation and to open a doorway for the Rhinestone Cowboy to enter and hear the songs of two men singing through the network.
A head of waves, laughter dreams. Slipping into bowls of glimmer. Dancing in surreal desire, hands mark and touch. I want to glide on worlds imagined. And disappear within the murmurs. We were mining for ways to find a key that would unlock the virtual gateway and allow a stranger to come into our homes. Our homes have become homes and more: classrooms, offices, rehearsal spaces, gyms, stages, restaurants, dance halls, studios, forts, libraries, sounds of a drawbridge being raised. Since March 13th of last year I have been home, alone, with two cats — then, late summer, another cat arrived, Basil. I have left the neighborhood of this Ukrainian Village home perhaps four times in the last almost 11 months. I used to bike 60 miles a week. Movement stopped. Bed to coffee shop. To sit on a chair and hold space and activate permission and worlds through rectangular windows.
Aviva, Judd and I were searching for ways to communicate through this televirtuality, to find a new language of movement that is layered and complex. How do you traverse one another's homes, upside down data, mapped Chicago inverted, fall into the guts of Trump Tower, wipe down the cracks of a bas relief that tells a story of settlers' progress that you do not wish to be repeated. We try to understand and listen. This task is difficult, the awkward silence on Zoom, the gaps.
Through our work we often posed the question: What is it to examine and reimage the landscapes / structures we have lost during the pandemic or in our own histories? I keep thinking about dance, televirtuality, to guide, support, to assist in impossibility. The portal, the gap, the way the Lidar scans, the green screen materials of the house: Loy Bowlin's Dazzling Jewel home, fort, bridge, tower, sites of the past. I think of Aviva, Judd and I entangled in the history of two French paintings.
— Mark Jeffery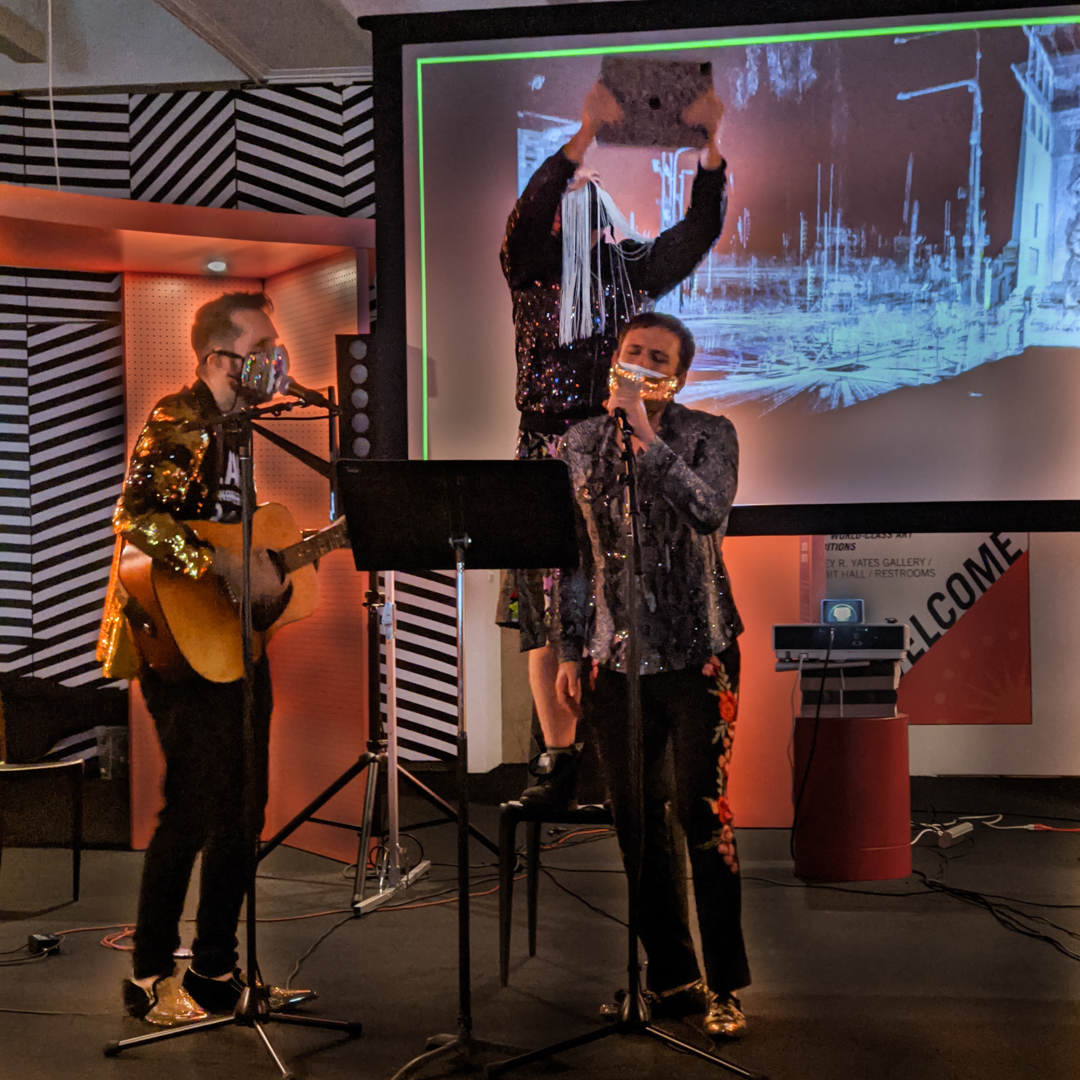 The Tenders, iteration #7, Liner Notes for Undressing Cover Songs being performed for a hybrid in-person/remote audience at the Chicago Cultural Center, 10.16.21
February 14, 2020. It is Valentine's Day & I am wearing tights in the backstage area of Fullerton Hall at the Art Institute of Chicago, attending to my inbreath / outbreath / inbreath, trying to calm my nerves in the long short minutes leading up to our stepping out from behind the curtain. We are about to perform The Tenders in front of a live audience of over 300 people.
We couldn't know then that a work we thought we were making about the past & present, about cowboys & rhinestones & cover songs & the American dream & the American nightmare & colonial forts & 20th century lift bridges & racist monumental sculptures & dispossessed indigenous nations & white supremacy as origin & telos was also a work about the year to come.
We couldn't know then that Valentine's Day 2020 would be our last in-person performance before the pandemic, before attending to our breath would become a matter of life & death, before George Floyd's breath was taken away forever, before the uprising for racial justice that followed demanding we never forget his heartbreaking last words I can't breathe, before Lori Lightfoot, mayor of Chicago, raised all the bridges in downtown Chicago to create a fortress protesters would be unable to escape from, before statues all over the world celebrating slave owners & colonizers would be toppled, before the epic, unprecedented assault on American Democracy that began with a lie & ended with violent insurrection at the US Capitol on January 6, 2021. "A storm is blowing from Paradise… This storm is what we call progress," Walter Benjamin writes of the Angel of History (Benjamin, 1969: 249).
.
White supremacy as origin & telos: that is the story of progress in the United States of America, & that will continue to be, unless we rise up & take control of our collective futures. As a white, non-binary, queer, Jewish, American/Israeli person — citizen & heir to not one but two settler-colonial societies — I know that I bear a special responsibility in this regard. As an artist, I strive to bear that responsibility in the best way I know how, by bringing it into the work. To borrow a line from Allen Ginsburg, one of my first queer art daddies: "America I'm putting my queer shoulder to the wheel" (Ginsberg, 1956: 43).
A couple of months after our Valentine's Day performance, with all plans scuttled, all projects on hold indefinitely, & our collective future entombed in a state of perpetually suspended animation, I feel lost, disoriented, depressed.
& now, unexpectedly, Mark enters the Zoom call from stage left, in a dazzling spotlight. Indefatigable optimist & caretaker, he called a meeting with Judd & I to talk about getting back to work. I am despondent. How can we possibly work? How can we collaborate, how can we perform during a lockdown? Mark responds by borrowing a line from Lin Hixson, one of his art mothers: "Are you making your work?" For the work must be made, the show must go on, we must continue to 'heed the call' like the firefighter who jumps into action as soon as she hears the alarm (Cecilia Vicuña told Judd & I that once over dinner).
These lines are the ancestral wisdom of our chosen art families & over the past year, we learned that one must, indeed, continue to make one's work, that making work is a form of self-care necessary for survival, that collaboration is a mutual-aid network, & that we must never stop putting our queer shoulders to the wheel.
— Aviva Avnisan
The Tenders, iteration #7, Liner Notes for Undressing Cover Songs being performed for a hybrid in-person/remote audience at the Chicago Cultural Center, 10.16.21.
References
Benjamin, W. (1969). Theses on the Philosophy of History. In: Illuminations, trans. H. Zohn, New York: Schocken Books.
Ginsberg, A. (1956). America. In: Howl, San Francisco: City Lights Books.
McCormick Bridgehouse & Chicago River Museum. (n.d.). 'Museum Exhibits.' [accessed 25/05/2021]
Judd Morrissey is a writer and code artist who creates poetic systems across a range of platforms incorporating electronic writing, internet art, live performance, and augmented reality. He teaches at the School of the Art Institute of Chicago and co-founded the performance collective Anatomical Theatres of Mixed Reality (ATOM-r). He is a recipient of an Andy Warhol Foundation Arts Writers Grant, a Fulbright Scholar's Award in Digital Culture, and a Mellon Foundation Collaborative Fellowship for Arts Practice and Scholarship.
Judd's solo and collaborative works have been included in a broad range of festivals, conferences and exhibitions at venues including the Art Institute of Chicago, Victoria and Albert Museum (London), Zero1 Garage (San Jose), Eyebeam (NYC), Le Cube (Paris), Anatomy Theater & Museum (London), Museum of Contemporary Art Chicago, and House of World Cultures (Berlin). Reviews of his work have appeared in the New York Times, The New Republic, RAINTAXI, and the Iowa Review. judisdaid.org
Mark Jeffery is a Chicago based performance/installation artist, curator and Associate Professor at the School of the Art Institute of Chicago. Since 1994 Mark Jeffery has developed unconventional collaborations with visual artists, scholars, video artists, sound artists, new media and code artists, dancers, choreographers, curators, and writers. In 2012, he co-founded the language, performance, and technology collective Anatomical Theatres of Mixed Reality (ATOM-r). He is organizer of the IN>TIME Tri Annual performance festival hosted by multiple venues in Chicago. The last edition was in the winter of 2019. Mark was a former member of the internationally renowned Goat Island Performance Group from 1996 – 2009. Recent performances and exhibitions include: Graham Foundation, Chicago, Victoria and Albert Museum, London, Chisenhale Dance Space, London, Alfred De Vrove, Prague, International Museum of Surgical Science, Chicago, Performance Arcade, Wellington, NZ, Australian Centre for Moving Image, Melbourne and 606 Trail, Chicago. Since Summer 2019 - onwards he has collaborated with Shannon Stratton and Kelly Kaczynski on a slow and long project titled Living Within the Play at The Poor Farm, Wisconsin. @markjosephjeffery
Aviva Avnisan (she/they) is an interdisciplinary artist whose work is situated at the intersection of image, text and code. Using a host of emerging technologies including 3D scanning, augmented reality and virtual reality, she creates applications for mobile devices, interactive installations and technologically mediated performances that seek to subvert dominant narratives through embodied encounters with language.
Aviva has presented her work both nationally and internationally. Selected exhibitions, biennials and performances include: Inside Practice at the Art Institute of Chicago in Chicago, IL (2020), Refiguring the Future at 205 Hudson Gallery in New York, NY (2019); Between Bodies at The Henry Art Gallery in Seattle, Washington (2018-19).
Aviva holds an M.F.A. in Poetry from Brooklyn College and an M.F.A. in Art and Technology Studies from The School of the Art Institute of Chicago. Aviva is an Assistant Professor of Emerging Media & Technology and Media & Journalism at Kent State University. abrahamavnisan.com